As a jewelry guide site, we love showing you different products that we think you will love. There are many varieties of jewelries out there that we would like to show you and hope that this helps you in shopping for jewelry.
In here, we will show you the many styles or types of bracelets that you may want to check out before checking some stores around you.
TENNIS BRACELET
This is one of the most sophisticated bracelet design, typically seen with diamond or other gemstone in the setting. The stones go around your wrist and is perfectly locked in a hidden lock feature. This is the eternity band of bracelets.
The design is elegantly made and will add glamour to your outfit for any occasion.
CHAIN BRACELET
Chain bracelets are the all time favorite when it comes to simplicity. This casual style setting is made of hoops that are linked together. There are different varieties of chains to choose from. The most common type of bracelet chain is called Beveled Curb Chain. These chain bracelets are perfect and suitable for most occasions.
CHARM BRACELET
Charm bracelets have become very popular as gifts on Mother's day. But of course it is still a great gift for any occasion. Charm bracelets consist of a chain bracelet with custom made charms dangling along the chains. You can select charms that represent the person you will be giving the bracelet to. Isn't that cute?
PEARL BRACELET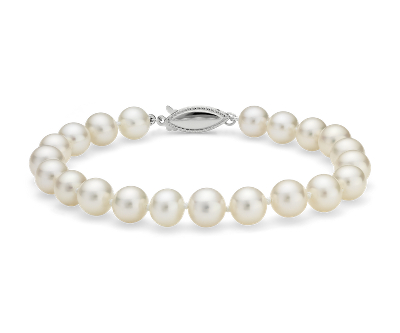 In terms of elegance, nothing beats the beauty of pearls. There are 2 types of cultured pearls you can get, one is freshwater and the other is saltwater. It comes in different size, shape, and color.  Pearl bracelet falls into the category of beaded gemstone but due to its popularity we think it deserves a category of its own.
BANGLE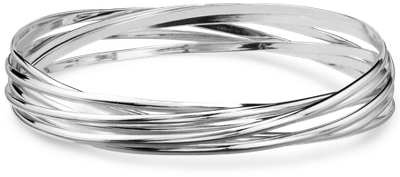 A bangle is a rigid bracelet without clasps or locks. To wear it, you would need to slide it in through your hand onto your wrist. It comes in different thickness. When wearing a thin style, it is best to wear a few of them to get the full effect of the design. There are bangles that are interlocking which creates a nice effect. There are those that are separated and can be matched with different metal color.
So there you have it. The most popular types of bracelets today. We hope you liked our short FYIs.
Please follow and like us: